Our foundation as an exceptional sustainable energy provider is built on our culture of health and safety excellence.
Consistent with our corporate vision and values, our safety culture is rooted and cultivated in caring for each other. Cyrq places the highest value on the health and safety of our workforce, the wellbeing of our personnel including our contractors, as well as people living in communities near our facilities.
We believe in Goal Zero – we pursue the goals of no harm to people, protection of the environment, and compliance with the laws and regulations of the communities we work in as business priorities and the promotion of a sustainable culture in which our people learn, participate, and improve.
The following Health, Safety and Environmental Principles are used to guide our actions:
All incidents including injuries, occupational illnesses, fires, damage to the environment and other harmful events can be prevented.
Everybody has the responsibility and the authority to stop any work activity whenever they see an unsafe act or condition.
Workplace hazards can be controlled.
A strong safety culture requires engagement by the entire workforce.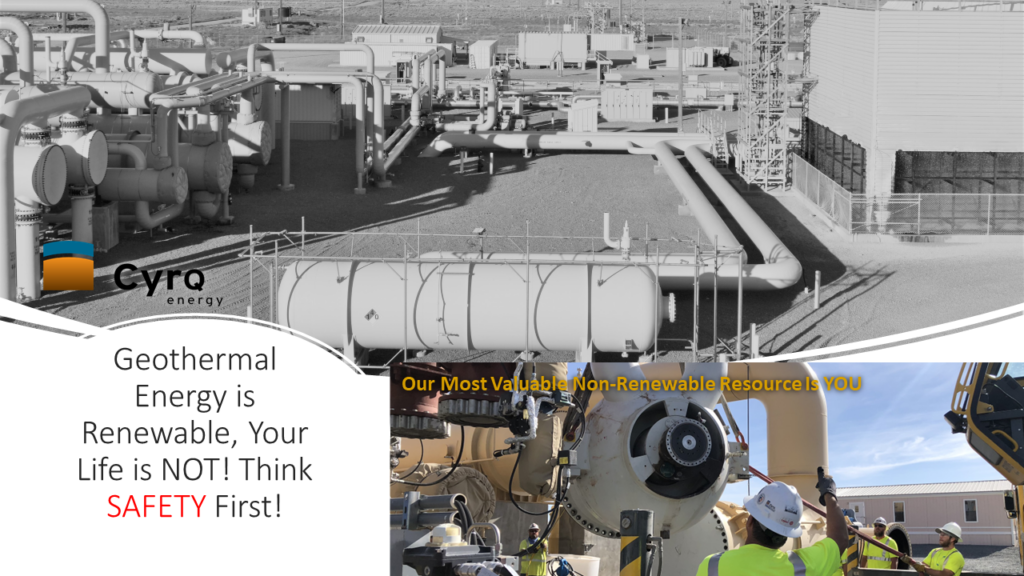 Cyrq Energy works towards these objectives in accordance with the effective implementation of our HSE Management System. In line with our commitment to health and safety excellence is the Cyrq Energy Ten Life Saving Rules: